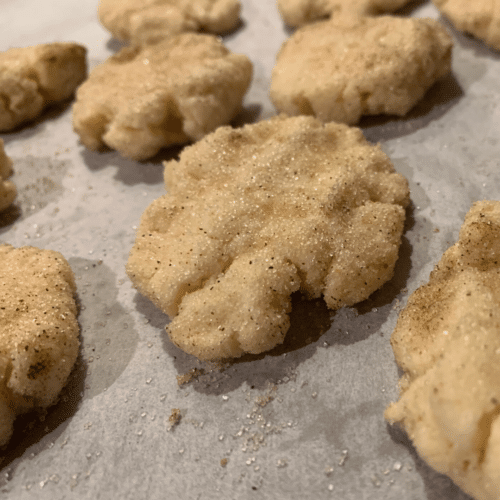 Print Recipe
Flutterdoodle Snickerdoodles
If you notice there are no eggs thats not a typo. Thats right eggless snickerdoodles.
Ingredients
2 cups flour
1 teaspoon cinnamon
3/4 cup sugar
2 1/2 teaspoon baking soda
pinch of salt
1/4 cup butter (melted)
1/4 cup vegetable oil
1 tablespoon maple syrup
1/3 cup water
1 teaspoon vanilla
Instructions
1

Gather all your ingredients. Preheat the oven to 350°F.

2

In a medium bowl mix the flour, cinnamon, sugar, baking soda, and salt together.

3

Pour in the butter, oil, maple syrup, water, vanilla, and mix.

4

For coating Mix 1/4 cups sugar with 1-2 teaspoons of cinnamon depending of your preference of spice.

5

Line a cookie tray with parchment paper or a reusable, oven safe, non-stick mat.

6

Roll the dough into small balls using your palms, press the ball down into the sugar mix.

7

Place your cookies 1 inch apart and bake for 10 minutes.