These Black and White Cookies are so good! But if you want to take that good to another level, you can pare it with my Non Dairy Except the Butter Frosting
About These Cookies:
Black and White Cookies are super easy to make. This recipe is not complicated at all! It's a very easy recipe actually. You would look at the cookie and think… oh wow, that looks hard to make. But it's really not! For the frosting I put it in piping bags to have a better control. These cookies couldn't be simpler!
Why To Love These Cookies.
The reason I love these cookies is because they look as if they have so much love, care, and thought into them! They do! But they are easier then they look! If you bring these cookies anywhere, you will definitely wow people! They will be shocked. I know, because it happened when I made them!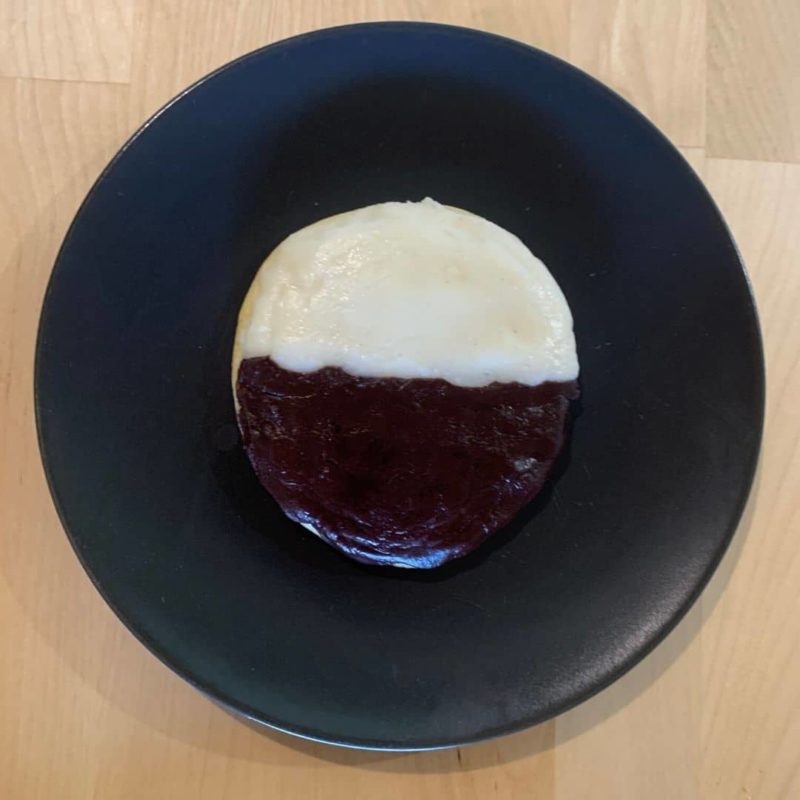 Print Recipe
Black And White Cookies
These Black and Whites Cookies are so easy and fun to make! These cookies are the best black and white cookies I have ever tasted!
Ingredients
1 cup all-purpose flour (#55)
2/3 cake flour (#45)
1 cup white sugar
1/2 teaspoon baking power
A pinch of salt
2 eggs
1/2 cup milk
6 tablespoons butter (melted)
1 teaspoon vanilla
Instructions
1

Gather all your ingredients and one Large and one Small bowl. In the large bowl whisk the eggs and sugar together, once smooth add in the butter, milk, and vanilla and mix. In the small bowl mix the flours, sugar, baking soda, and salt together, then gradually add the small bowl into the large bowl.

2

Once the batter is fully mixed cover and place in the fridge for 2 hours. After 2 hours preheat the oven to 350ºF. Line a cookie sheet with parchment paper or a reusable, oven safe, non-stick mat.

3

Scoop a spoonful of the batter onto the tray, make sure the cookies are 3 inches apart because they will expand. Place in the oven and bake for 13 minutes.

4

Once the cookies have cooled, it's time to frost them. I put my frosting in piping bags for easy use. If you want a smooth cookie wet your finger with water and run it along the frosting on the cookies.
If you get stuck and need some help with any of these ingredients in this recipe for these Cookies, check out these tips!  The 5 Sugars To Keep In Your Pantry At All, What Are The Different Types Of Flour, Times and Essential Spices To Have In Your Pantry.