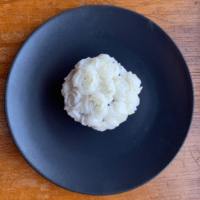 Print Recipe
Best Gluten Free Chocolate Cake Ever
This recipe is fantastic as a cake or as cupcakes. Whenever I make cake or cupcakes with this recipe, they never last long, especially topped with buttercream frosting!
Ingredients
2 cups all-purpose flour
2 cups sugar
3/4 cups cocoa powder
2 1/2 teaspoons baking powder
1 1/2 teaspoons vanilla
pinch of salt
1 cup milk
2 large eggs
1/2 cup vegetable oil
1 cup boiling water
Instructions
1

Preheat the oven to 350°F.

2

In a large bowl Mix the flour, sugar, cocoa, baking soda, and salt and whisk.

3

Mix in the milk, vegetable oil, vanilla, and eggs to the dry ingredients and mix well.

5

Pour the batter into your Cake pan or Cupcake tray.
Notes
This makes two 9-inch round cakes or 24 cupcakes.